Welcome to new LEQ leaders
This year we welcomed new school leaders to Lutheran Education Queensland.
Mark Blackwell is the Principal of Peace Lutheran Primary School at Gatton. Mark is an ordained Lutheran minister who has previously been pastor in Mannun (SA), Geelong (VIC) and Chaplain, as well as other positions, at Concordia Lutheran School (QLD). Mark is also a trained teacher and has had various positions including year 6 teacher at Blair Athol (SA). Mark is looking forward to the journey ahead, as the school provides their students with the Christian learning environment and skills they need to strive and thrive.
Mark was installed as Principal on 9th February.
Photo caption L to R: David Haak, Chair Peace LPS Council, Bishop Paul Smith, Mark Blackwell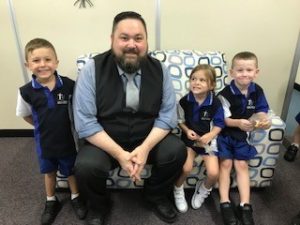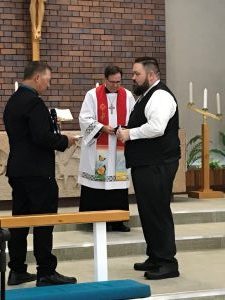 Simon Hughes Is the Principal of Prince of Peace Lutheran School at Everton Hills. Simon joined Prince of Peace from Good News Lutheran College in Melbourne, where he was Principal for 8 years and oversaw the growth of the College from a Primary School through to a large P-12 College, along with the introduction of several international programs. Simon has previously held other leadership positions, as Head of Middle School and Year Level Coordinator.  He has taught ICT and Design Technology from Prep to Year 12, along with Music, Photography, Mathematics, English, and Physical Education.
Simon will be installed as Principal on 1st March at Prince of Peace Lutheran School.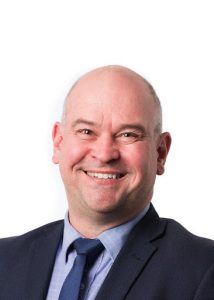 Doug Braiden is Principal at Faith Lutheran College Plainlands.
Doug was previously Head of Campus (Secondary) at Trinity Lutheran College Ashmore and has also held leadership positions at West Moreton Anglican College and John Paul College. Doug has worked as Detective at Queensland Police Service, Senior Investigator at Queensland College of Teachers and held teaching positions at Grace Lutheran College and Genesis Christian College. Doug is passionate about church planting, evangelism and youth ministry, growing leadership capacity in others, contemporary education and student wellbeing. Doug has a son aged 17 and a daughter aged 15 and enjoys  exercise – CrossFit and cycling, photography and reading.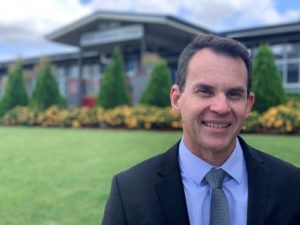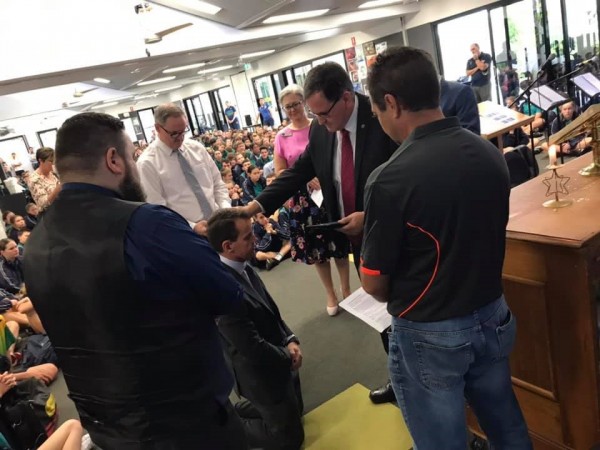 Doug was installed as Principal on 6th February.
Erin Dieperink is Business Manager at Bethany Lutheran School Raceview. She has Bachelor's Degrees in Commerce (Accounting) & Business (Management – HR & IR) and is also a CPA. Erin is a St Peters Lutheran College old scholar and has worked in finance in cement manufacture and shipping, childcare, health professionals and a residential university college. She has previously worked as Business Manager at both St Stephens Lutheran College and St Peters Lutheran College.