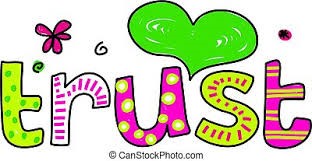 When we think about the idea of "trust," many of us may think about how much we trust the people around us on Earth. But the Bible reminds us, the most important form of trust we can have is our trust in God. To have a relationship with God, you need to be able to trust that he will provide for you and guide you on your journey.
In some of my most recent readings I have been looking at what "Trust in Schools" really means.
So, I ask the question of our schools, why do parents trust us;
"Is it about how well the child is progressing academically?"
"Is it that a child feels safe at school and has lots of friends?"
"Is it that the parent really likes their child's teacher?" 
"Is it that the school "walks the talk?"  OR
"Is it ALL of the above and that the school holds strong Christian Values at the centre of all they do?"
For me, our work together in Lutheran Schools is grounded in our important shared beliefs and values. 
If effective learning is to occur, the trust relation developed between a parent and a child in the early years of life needs to be transferred to the teachers.  Teachers need parents to inform their child that the teacher plays a special role in their life which is similar to that of an extended family member.
There is much research that details the importance of that personal and intimate character of the teacher.  Teachers remain dependant on parental support to feel good about their work. 
So, I say to you; "Commit your way to the Lord; trust in him, and he will act."  Psalm 37:5
This day, I acknowledge the wonderful work that our teachers do in our schools.  May they enjoy special relations with their students.
To principals and senior management may I offer my support to you as you support your teachers and staff as they go about their daily tasks.  Remind them to trust in Lord their God.
Eunice Stoll
DSLS