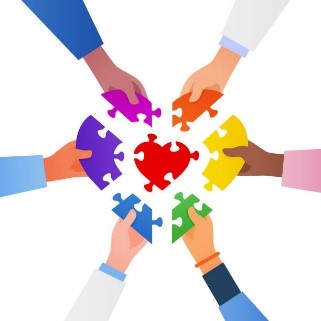 Earlier this week I was searching the internet for some inspirational stories on gratitude.   I came upon a story of a teacher asking her class to draw a picture of something or someone that they were grateful for. 
After a while the teacher stopped the class and asked for volunteers to go up to the front and tell the class about their drawing.  Not surprisingly there were pictures of family, trees and flowers and treats such as chocolates. 
One little boy was sitting quietly, and the teacher asked him to come up and share his picture.  He stood in front of the class and said nothing.  The teacher obviously knowing her student suggested that he play a game with the class, and they have a guess what his picture was about.  His picture was a hand.  The students guessed all sorts of things. 
Finally, the teacher said whose hand was the picture of. 
The little boy answered, "Yours Miss."   What an amazing show of gratitude.
Of all the things that the little boy could draw, he chose to draw the hand of his teacher. I wonder how often the teacher had guided, supported, congratulated and shown God's love through her actions?
Over the years of being a teacher we could not imagine how many students we have influenced or had an amazing effect on. 
I believe that the same goes for Principals and leaders within our schools, will we ever know the influence or the profound effect we have had on our staff and students.  On the flip side, how much will our staff and students influence us and have a profound effect on us and how we lead.
2 Corinthians 4:15
All this is for your benefit, so that the grace that is reaching more and more people may cause thanksgiving to overflow to the glory of God.
Dear heavenly Father
May we through our actions continue to positively influence
our staff and students as we go about our daily tasks.     
Amen.
Eunice Stoll
DSLS