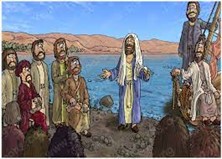 The Parable of the Sower is an 'allegory' about the Kingdom of God. It can be interpreted to reveal a hidden meaning, everything in the story represents something else. It is a growth parable.
A man went out to sow grain – just as a planted seed starts to grow, the word of God starts to deepen and grow within a person.
Some seed fell on the path and the birds ate it – there are people who don't live a good Christian life because they are focused on other things.
Some seed fell on rocky ground where there was little soil, the seed soon sprouted, but when the sun came up it burnt the young plants – people cannot commit to the Christian lifestyle. They are initially attracted but give up when the going gets tough.
Some seed fell among thorn bushes which grew up and choked the plants – some people are too concerned with what others think and they worry too much. They may be jealous, angry, or concerned with materialism.
Some seed fell on good soil and the plants produced corn – some people have strong faith and remain dedicated to a Christian lifestyle, even when things are difficult.
Jesus told many parables which always had a hidden meaning. Jesus would frame questions in such a way that listeners (readers today) had no way out but to examine their heart. They (we) would have to determine what their (our) response would be – what lesson would they (we) learn and how would it be reflected in their (our) lives.
Can you imagine if Jesus showed up today with His brand of preaching, would He be welcomed in our churches, or would His messages be too pointed or direct? Would we embrace His words or prefer to listen to someone who appeals to our feelings?
The Gospel WILL bring forth fruit, so go in peace with the LORD by your side. Amen.
DSLS
Eunice Stoll