Do you know a colleague who has an amazing 'radar' that picks up on the subtle changes in a child?  Are you a student of students? In schools, these small clues or 'small data' are often woven into the tapestry of values, language, behaviours and cultures that inform the way teachers and students share their learning journey. Small data is not new. In fact, it has always been part of the learning partnership for effective teachers, because it's how they are wired. As Lutheran educators, valuing, understanding and being sensitive to small data, is a part of our DNA for improving educational outcomes for students.   
Pasi Sahlberg, friend of Lutheran education, contends that big data reveals only correlation between events, not causation. Correlation is important in understanding relationships between events, but it doesn't mean that one thing would cause the other. How about small data? As educators, we need information that helps us to understand better those aspects of learning and teaching that are invisible or not easily measurable.
Teachers know their students best. They also know the importance of human observations, face-to-face conversations and critical reflections in making sense of what goes on in their classrooms. Our students are individuals, created by our loving God, uniquely gifted and talented, with families who have chosen to join our learning communities each day. Therefore, small data can be a good tool to find out what works best and why in our schools.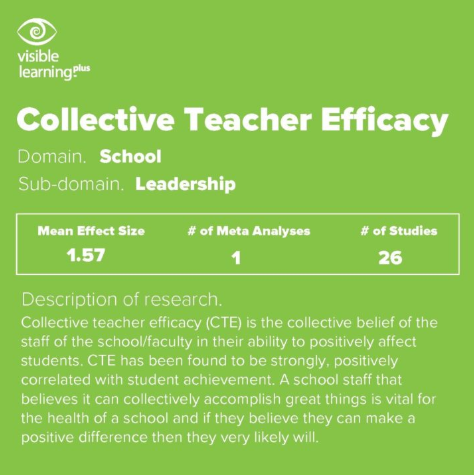 What does all this mean for leaders of learning, you wonder? If teachers share a collective belief that they make a real difference and can improve student learning outcomes, then is highly likely they will. John Hattie refers to this as Collective Teacher Efficacy. Through a network of daily professional relationships with students, small data is an active and influential part of teachers' professional repertoire. To value and strengthen this, encouraging teachers to articulate and share their practice of noticing small data can grow the capabilities of others, creating valuable student focused capacity across the school.
How does your school notice and value small data? What practice do you have for;
1. Sharing best practice or peer coaching for professional learning,
2. Using authentic assessments in classrooms that value student voice and choice,
3. Creating time and space to listen and discover students' beliefs about the topics you're teaching?
Is our focus on small data worth it? Does it inform essential learning practices in our schools? Small data takes time, yet the power of noticing and knowing each individual learner in our care honours our shared ministry, mission and learning journey. Small data is a powerful and positive force in shaping school culture. Is your radar switched on? Are you a student of students? Noticing is small but mighty!
Darren Pope
Director – Leadership & School Improvement