Principle #1: Be the Guide on the Side
Restraint. As a U.S. survey respondent put it, "If you want to occupy center stage, look for another job. Great chairs create conditions that allow other people to shine."
Patience. Good chairs are passionate about their work, but that passion is tempered by the ability to pause and reflect.
Availability. Being available as needed. Present but no so present that you are mistaken for the principal or suggests a lack of trust in the leadership team
Friendly NOT Friend. A degree of separation is needed.
Principle #2: Practice Teaming—Not Team Building
The board is not your team. They are fellow directors and volunteers who come together to help make decisions.
Principle #3: Own the Prep Work
Inexperienced chairs often think that the job is all about managing the dynamics in the boardroom. Experienced ones, however, recognize that the meetings are just the tip of the iceberg. A great share of the chair's work goes into setting an agenda and putting together a briefing package.
Principle #4: Take Committees Seriously
Committees such as Finance, Risk & Compliance, and Building & Property, allow for governance matters to be considered at length and depth before recommendations are made to Council. However, Council members should not just rely on the committee recommendations, but must discharge their own fiduciary duty in decision making regardless of their own personal expertise.
Principle #5: Remain Impartial
The harsh reality is that collective productivity suffers when the person at the head of the table has strong views on a particular issue. It stifles others contributions. Focus on preparation not solutions.
Principle #6: Measure the Inputs, Not the Outputs
Making sure the board has the right human capital. Keep your skills matrix up to date. Know how well agendas cover strategy, principal appointments, remuneration and succession, risk, compliance, and disclosure.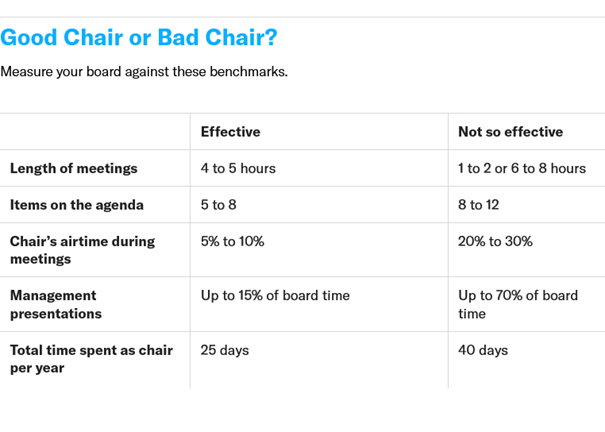 Conclusion
Ultimately, the challenge for the board chair is not really about traditional leadership at all. To be sure, the board does have an important leadership function: counseling and supervising the management team. But that responsibility is collective, and the chair's job is to enable the board to fulfill it. To be effective, chairs must recognize that they are not commanders but facilitators. Their role is to create the conditions under which the directors can have productive group discussions. Good chairs recognize that they are not first among equals. They are just the people responsible for making everyone on their boards a good director.
A version of this article appeared in the March–April 2018 issue (pp.96–105) of Harvard Business Review.