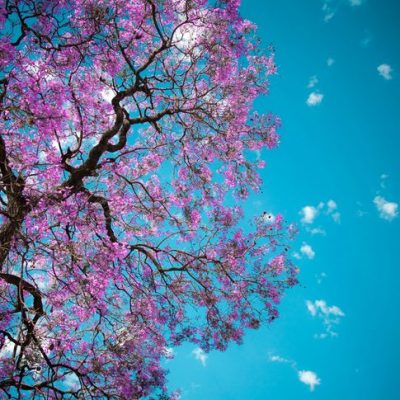 The Japanese cherry blossom, or sakura, has long been adored by people across the globe. It is regarded as a symbol of renewal, vitality, and beauty. During Spring, thousands travel to Japan to view the spectacle of these beautiful flowers blooming en masse. Japanese families also eagerly await this time. Many attend cherry blossom festivals or simply enjoy hanami, the tradition of viewing and enjoying the beauty of the cherry blossom.
In Australia, as Jacaranda trees wake from their wintery slumber, the hills, parks and water-front blossom into a burst of Spring colour. The purple splendour is spectacular and vibrant as new life and renewal comes after a period of still, quiet and waiting.
No, it's not Spring right now. During Lent, like Christ (Luke 4:1-2), we are in a time of reflection and preparation. Lent occurs during Spring in the Northern hemisphere. The word 'Lent' comes from the Old English word for 'Spring' with violet as the liturgical colour.
Amidst the season of stillness, quietness and waiting, the colours of Lent lift our eyes to focus on a future filled with hope, grace and peace, with the assurance that the purple profusion is coming, new life is coming and the celebration of Jesus' resurrection is coming!
In Christ, we are blooming.
Blessings as we serve, lead and learn together.
Darren