I am passionate and absolutely convinced about the deep learning which happens through great Service Learning practice ultimately impacting the kind of world in which we live.
Here are two 2020 Learning Opportunities for teaching staff & school leaders in Lutheran schools & ECS's!
1. In 2020, Australian Lutheran College's Graduate Certificate in Education and Theology will commence.
Big Questions Units will address contemporary issues confronting our world and education. https://alc.edu.au/study/courses/graduate-certificate-in-education-and-theology/. 2 Units in this Graduate Certificate program will have a direct focus on better understanding Service-Learning and Community Engagement in a Lutheran School.
Semester 1 Unit: Service-Learning & Community Engagement: Connecting Head, Heart & Hands.
Semester 2 Unit: Service-Learning & Community Engagement: Who is my neighbour?
Facilitated by Meg Noack & Jodie Hoff, these 2 Units include a one-day retreat [set for mid January, 2020], on-line learning projects and on-line forums.  There is a practical component associated with each topic that is designed to meet current teachers' learning needs. There will be strong curriculum connections and innovative pedagogical approaches embedded throughout. 
2. The Biennial Ecumenical Service Learning Conference is being held in Brisbane in 2020. This is possibly the best conference PD available in Australia for schools wanting to grow embedded Service Learning.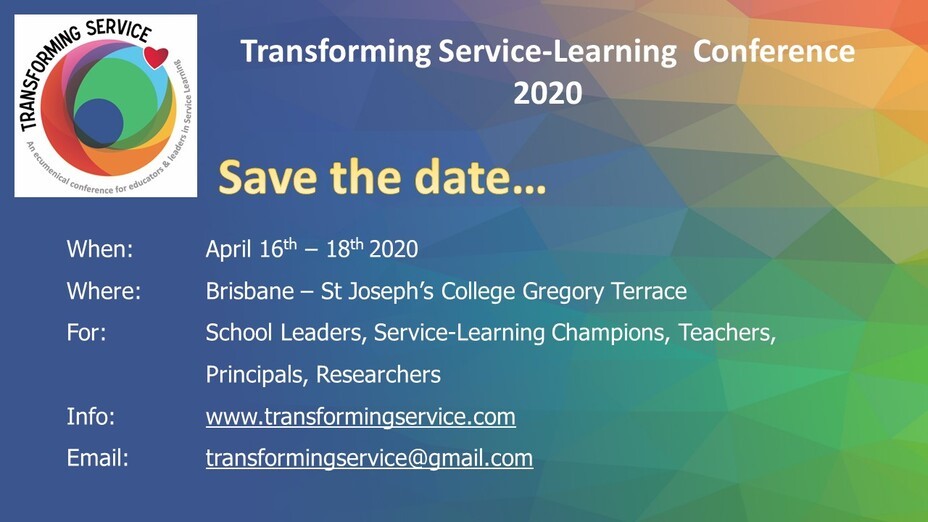 Happy to field inquiries or point you in the right direction if you have questions!
Stephanie Maher
Director – Identity & Formation