Consultation is currently underway in relation to a proposed new entity that will oversee the implementation of the Child Safe Standards and a Reportable Conduct Scheme. The following are notes and screen shots taken by Yvonne Ries, Deputy Executive Director – Education as part of this consultation process. LEQ schools and services would be subject to the proposed changes regarding Child Safe Standards and Reportable Conduct.

Consultation is currently underway in relation to a proposed new entity that will oversee the implementation of the Child Safe Standards and a Reportable Conduct Scheme.
The Royal Commission into Institutional Responses to Child Sexual Abuse recommended laws be implemented to require child related organisations to comply with Child Safe Standards with an independent body that will support, regulate and oversee compliance with the Child Safe Standards. NSW, Victoria and South Australia have already implemented this legislation. Tasmania has also passed this legislation which will come into force from 1 January 2024.
Child Safe Standards
Child Safe Standards are 10 Principles for organisations working with children. They outline how organisations can become child safe and how they establish organisational cultures that result in an organisation having a preventative focus and assist organisations in being safe places for children.
Reportable Conduct Scheme
The Reportable Conduct Scheme is complementary to the Child Safe Standards and provides a model for independent oversight for how organisations investigate, respond and report complaints of child abuse by their staff and volunteers.
The Queensland Government has accepted (or accepted in principle) all recommendations from the Royal Commission. The Queensland Government has also committed to a nationally consistent reportable conduct scheme.
Stakeholders reported support and a readiness to implement the child safe standards and reportable conduct scheme within a two-year period, as part of a targeted consultation undertaken in 2021.
This will involve new responsibilities and obligations and the regulatory impact of these will need to be assessed. This then informs the design of the system to ensure it achieves its objectives, with a view to minimising regulatory burden.
A single oversight body which delivers both the Child Safe Standards and Reportable Conduct Scheme is currently the recommended option however the consultation process is to test this position. Feedback is open until 22 September 2023.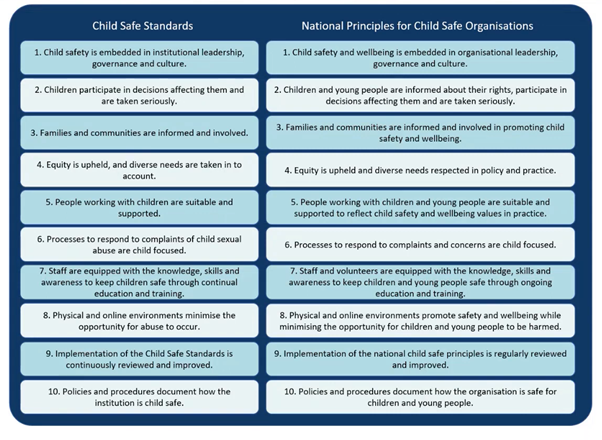 The Child Safe Standards have been incorporated into the National Principles for Child Safe Organisations. It is understood that if an organisation has implemented the National Principles, they are most likely already implementing the Child Safe Standards.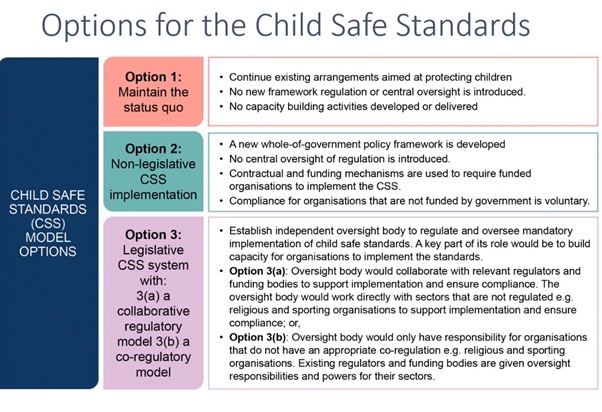 In line with the recommendations of the Royal Commission, Option 3 is the recommended option. Based on research and stakeholder feedback, as well as the importance of having clarity around responsibility, Option 3a is the recommended option however no decision has yet been made by the Queensland Government in this regard.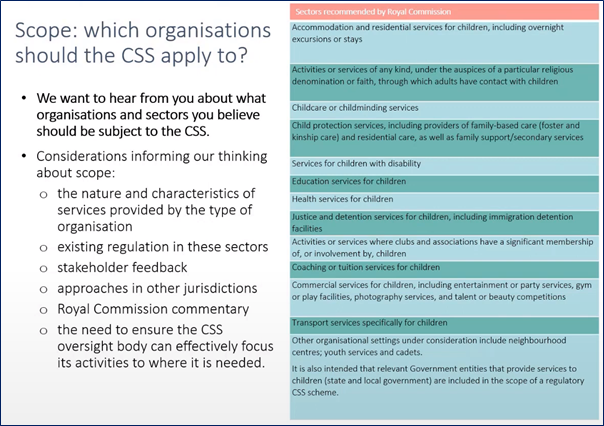 No decision has been made yet by the Qld Government as to the scope of the obligation. This will be informed by the nature and characteristics of the organisation, approach in other jurisdictions, existing regulation and RC recommendations.
Reportable Conduct Scheme for Queensland
Various jurisdictions already have reportable conduct schemes in place (e.g. VIC, ACT, WA, Tas and NSW).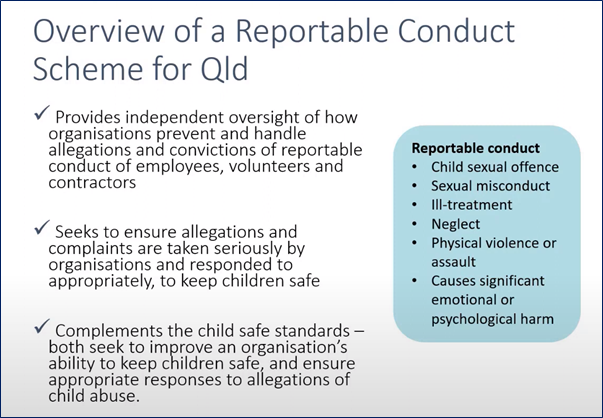 A Reportable Conduct Scheme would cover a wide range of concerning behaviours, e.g. inappropriate touching, which does not meet the threshold for a criminal report. Employees, volunteers, contractors would be captured irrespective of whether or not they were involved in the delivery of services to children.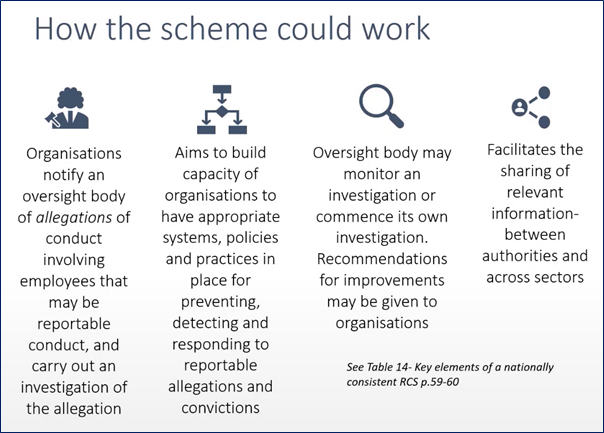 It is recognised that many organisations already have obligations and existing processes to mitigate and address child safety issues. The options are about bringing these different processes together to ensure there are not "gaps" as well as ensuring that those organisations which currently are not subject to these obligations are captured.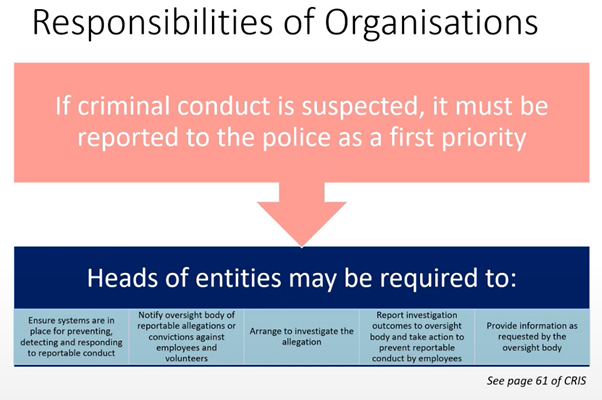 The threshold to report under the proposed Reportable Conduct Scheme is lower than the threshold under the Criminal Code.
The independent oversight body will also have a capacity building function.
Proposed scope of the Reportable Conduct Scheme: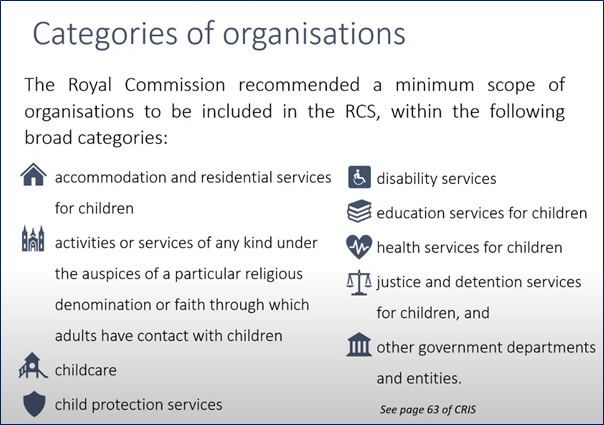 The proposed options are with a recommendation that Option 2 be adopted by the Qld Government.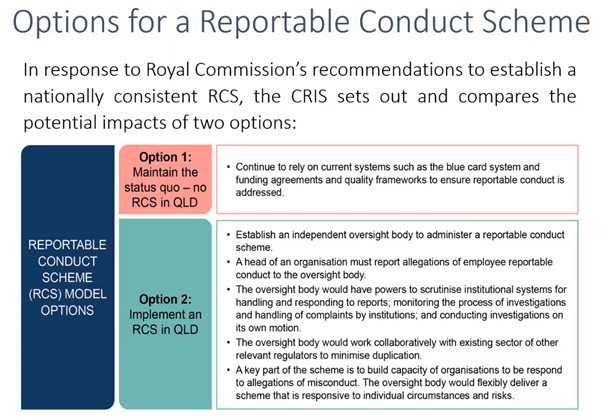 An integrated system is proposed: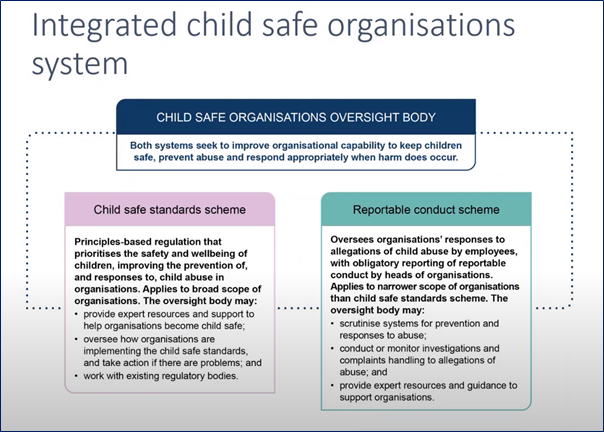 The CRIS also undertakes analysis of the costs associated with the implementation and compliance with the proposed scheme, i.e. an economic analysis of the options has also been undertaken with details available in the CRIS however this does not reflect the costs already incurred to comply with existing responsibilities and obligations for child safety.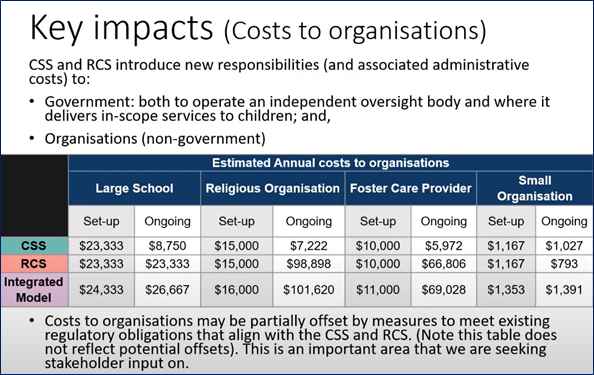 Conclusions to date: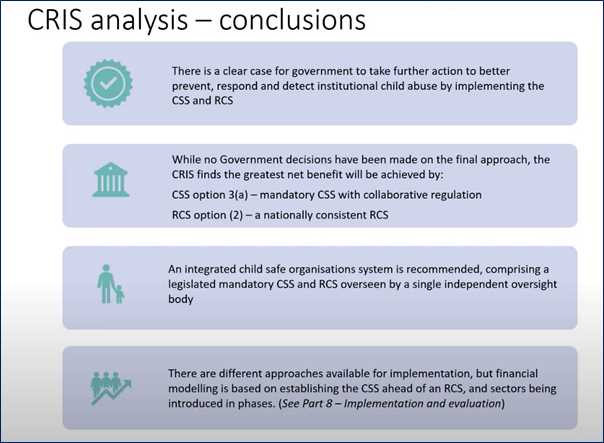 Feedback will be incorporated into the Decision Regulatory Impact Statement (DRIS) which will be considered by the Queensland Government however the timeframe for publication of the DRIS is not know. It is also acknowledged that further time would be required to the develop, consult and implement the required legislation.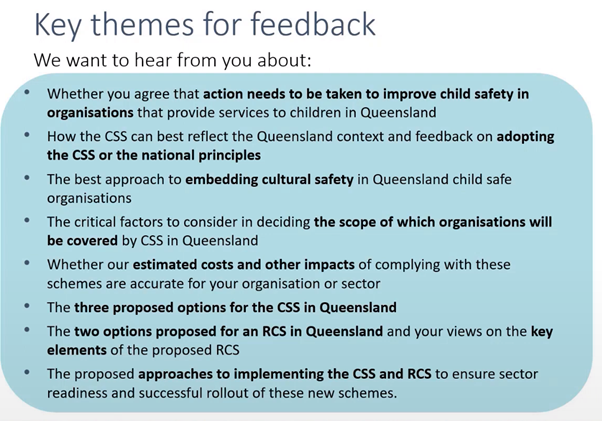 Further information can be found here.
References
Final Report – Volume 6, Making institutions child safe (childabuseroyalcommission.gov.au)
Final Report – Volume 7, Improving institutional responding and reporting (childabuseroyalcommission.gov.au)
Final report | Royal Commission into Institutional Responses to Child Sexual Abuse (childabuseroyalcommission.gov.au)
https://www.qld.gov.au/__data/assets/word_doc/0010/410131/2021-consultation-report-growing-child-safe-organisations-qld.docx
Growing child safe organisations | Community support | Queensland Government (www.qld.gov.au)