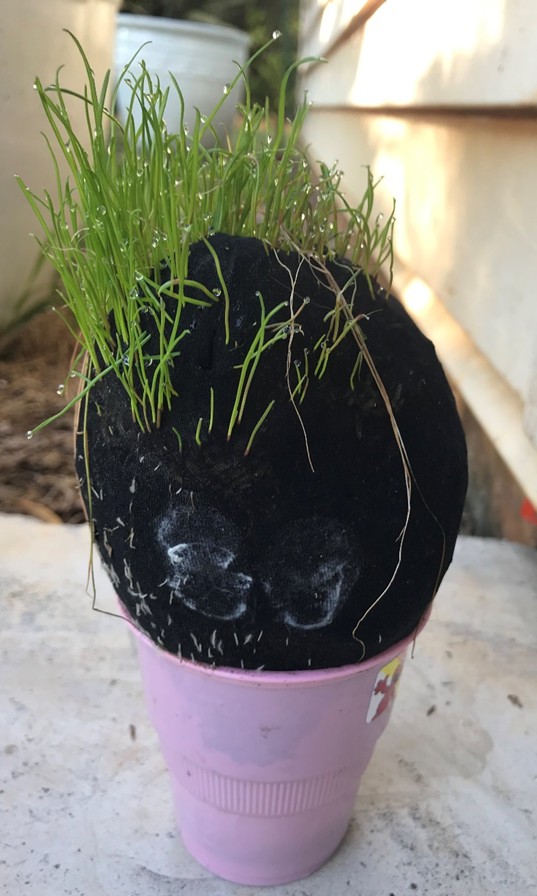 Elise is a prep student at Living Faith. Last week she brought home Grasshead (which she has been anxiously watching, watering and ensuring there is adequate sunshine). As I thought about what I have been learning that I wanted to share with you, Grasshead is the image which came to me.
You might notice that there are faint white oval shapes at the front of Grasshead – this is the glue left behind when Grasshead's eyes fell off. You see Grasshead was struggling. Four or five strands of grass had grown, but every time Elise tried to water it, the water just ran off the top and never soaked in. Elise was most indignant about Grasshead surviving.
I could see that the head was rather misshapen and overstuffed, and the only way water was going to seep in was if we soaked it – so as 'grandmother' to Grasshead, I dutifully placed Grasshead in a bowl full of water in the kitchen sink. A few days later (now missing her eyes due to the soaking), Grasshead has begun to flourish!
I wanted to remind us today of a few things. Despite the fact that we might find ourselves at the end of term 3 feeling a little misshapen, overstuffed, unable to soak up the water we need, and struggling to thrive, our Creator looks at us with great delight and wants to make sure we have the water and sunshine we need to be well and strong.
I know that when I make space in my heart and mind and body to be present and listen to God… to soak up God's perspective, I find myself reminded of God's passionate, gracious and nurturing loving kindness towards me.
When we spend time in that space, like the grasshead soaking in the water, we are empowered to grow, be well and whole again, to know deep within ourselves that we are deeply loved by God just as we are.
This morning I remembered this verse I'd heard in my childhood about God delighting in us. At the end of the very short book of Zephaniah, you can find these words:
The Lord your God is with you,
    the Mighty one who saves.
God will take great delight in you…
    rejoicing over you with singing…
As you head into the September break for students and staff, I encourage you to be intentional about making space to see, hear and experience God speaking these words to you… You are God's delight… and whilst soaking in the space of God's loving gaze, may you gather your strength and vitality again.
Stephanie Maher
Director – Identity & Formation