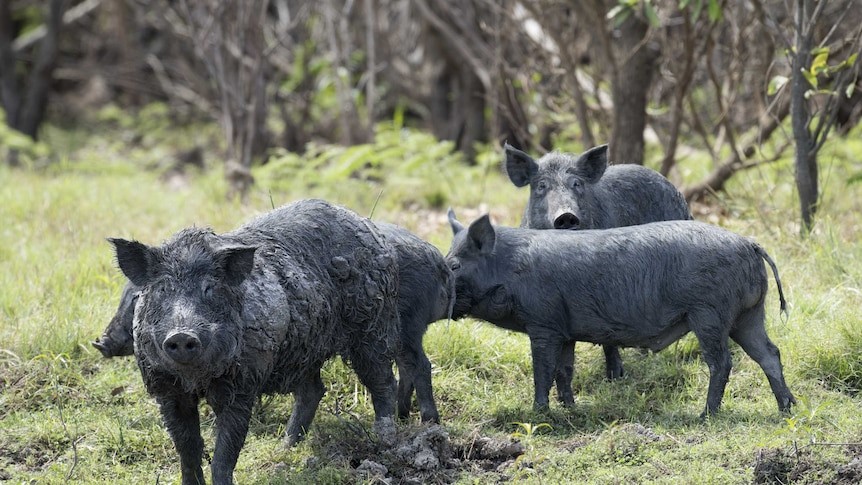 Feral pigs have rarely been sighted on the Gold Coast in recent years, but a bumper breeding season is causing concerns for council and local sugar cane farmers.
Gold Coast Councillor, Mark Hammel, said the invasive animals had recently been sighted in northern suburbs including, Jacobs Well, Ormeau, Norwell and Alberton.
"Wild pigs aren't new to this end of the city," he said.
"Wild pigs in these kind of numbers, it's been a few decades since this many wild pigs have been sighted.
"It's absolutely a concern to local agricultural producers in the area."
The concern is the feral pests will damage sugar cane fields on the city's northern fringe.
Cr Hammel, who lives on a rural property on the northern Gold Coast, said weather conditions have likely led to the increase in feral pig numbers.
"The six months of wet weather we had at the start of the year during summer .. perfect for breeding," he said.
"This many numbers jumping so quickly can only really be explained by having a wonderful breeding season for them.
"Now it's what we do to get them back under control is going to be the issue."
Cr Hammel said there needed to be a joint effort between council's Vector Security, which is the local government equivalent of Biosecurity Queensland, and local cane growers.
"We have had sightings of these pigs inside a couple of schools as well," he said.
"There has been several sighting at LORDS (Lutheran Ormeau Rivers District School) just on the edge of the Pimpama River.
"They're not a concern to students, the sightings have mainly been on camera over the weekend."