Brisbane Learning Tour – Passion, Engagement, Regional Collaboration, Enjoyment and lots of Learning! Schools across Lutheran Education Regions come together again.
A Lutheran Educator Learning Tour took place last week in Queensland. School Leaders, Educators and Business Managers from LEVNT schools visited Queensland again to work and collaborate with a number of LEQ Schools. The engagement, collaboration and constructive scheming across LEVNT educators and LEQ educators/facilitators was electric!
Participants noted that some of their big takeaways and focus areas were, experiential pedagogies, reconfigurable agile learning environments, culture and trust, teacher teaming and student voice.
Bethania Lutheran Primary School
We engaged in a deep empathetic dive into why we are on the learning tour reframing our questions or foci. Principal Catherine Eyers and Deputy Sarah Schnetker then introduced us to the BLPS story of Contemporary Transformation. Confident Student Ambassadors then popped up everywhere around the schools as we toured! We completed the visit with an in-depth round table with Catherine and Sarah discussing conditions for success including Culture, Culture and Culture, then Trust, Trust and Trust followed by a deep dive into the pedagogy and transformation.
Redeemer Lutheran College
We viewed the brand new Year 7 learning environments at Redeemer Lutheran College. Nicole Gregory and Michael Trott walked us through the rich journey to get to this current time of Contemporary Learning Transformation and even though the visit was after school had finished for the day, many students were found utilising the space for further learning and engagement.
Trinity Lutheran College
Dynamic Contemporary Pedagogy, Spaces and Culture were on display at Trinity Lutheran College where we engaged with staff and students across P-12. It was evident that student voice, contemporary PBL pedagogies, re-configurable environments and teacher teaming were vitally important to the successful transformation. Prototyping some of these factors was also an important aspect in the development. Dr Tsae Wong, Doug Braiden and Brett Mason and other key educators helped make the visit an extremely rewarding one.

Faith Lutheran College – Redlands
The group visited both campuses of Faith Lutheran College, Redlands. A key message during the visit was that it is possible to invest in contemporary pedagogies and innovative learning environments on a tight budget. Principal, Shane Altmann, Stuart Needham and many educators across the College welcomed us into their classrooms to see and hear their journeys.
Tour Dinner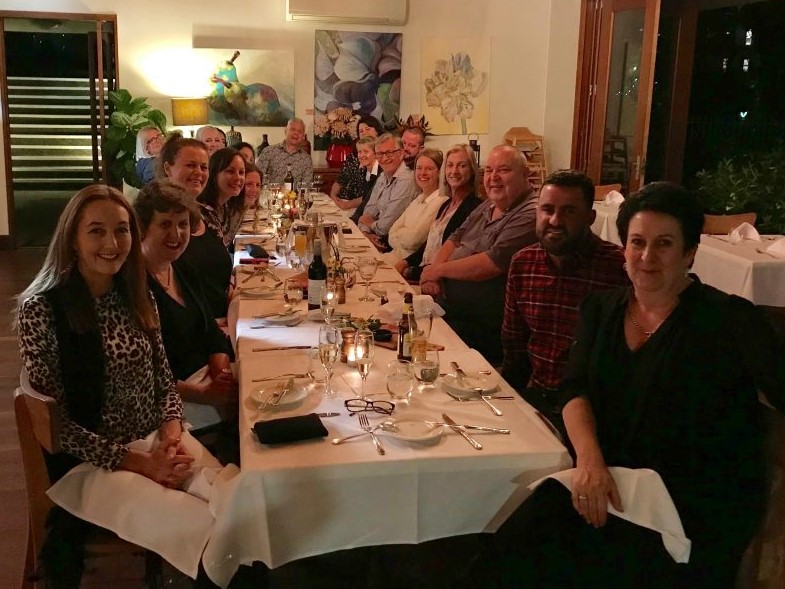 What an amazing group dinner on our Brisbane learning tour, complete with fireworks over the Brisbane River and an inspiring presentation from consultant Bronwyn Olsson who recently has been working with LORDS Lutheran College teachers and students. She shared her insight about how human centred design can impact meaningful learning. These are some of the highlights of her chat with us. When you are feeling stuck and frustrated with how to move forward this is when innovation happens. How do we create change makers for now- not for the future? When we involve kids in deep dive empathetic thinking then their ability to think and reflect accelerates. How do we take learning from the shallow and discrete to being meaningful and authentic? How might we reimagine learning through the eyes of a social innovator and a human centred designer? How do we get ego-centric beings (children) to develop deep empathy for others? Innovation is where comfort stops and courage starts. It is so important that we fight the urge to jump into solution mode and make sure that we are following the right idea or the right question. If you trust the process the results are awesome, phenomenal and the learning will be more rich than you can imagine! So important to find the right problem for the students to find and solve. Be prepared to take messy action.
Living Faith Lutheran Primary School – Symposium
An inspirational day was had at Living Faith Lutheran Primary School. Rebecca McConnell, Principal, Jane Mueller and their dedicated team took us on an honest, reflective and inspiring story telling experience sharing their journey of school transformation. Student leaders expertly toured us around key learning spaces, respectfully teaching their visitors about PBL, growth mindset and contemporary competencies. They were remarkable advocates for the impressive whole personal development that this school is renowned for. One person commented on the way to the airport that the final day's symposium allowed him to see how all of the loose threads of change and transformation can be sewn together into a whole design. Participants left feeling challenged to be courageous in the way that we transform our own schools. Thanks again Living Faith!
"Fantastic, well organised, eye opening educational, inspirational tour that everyone should experience. All facilitators were outstanding in their passion, deep knowledge and commitment to Lutheran Education."
"Thank you immensely for your support throughout our adventure and revelations. God Bless."
"The entire tour was so informative and inspirational. I will be returning to my college with such excitement about the journey we could start on! Every opportunity on the tour was one of professional engagement and learning."
"The tour was an amazing experience not only individually but for our team. I am feeling much more informed and supported knowing there are others who can assist us in our journey."
"Awesome Learning Tour – Thanks so much"
"Thanks again for a wonderful 3 days in sunny Queensland. I thoroughly enjoyed and feel inspired to move along on my own teaching/learning journey."
"Three days spent in sunny Queensland where we saw different learning spaces and innovative learning happening in classrooms. Thanks to the inspirational staff both teachers and management for allowing us the opportunity to access your learning journey and provide us with tools and ideas to take back to our individual schools. Thanks again."