Welcome from the Director
Hebrews 13:2: "Be welcoming to strangers, many have entertained angels unawares."
It is always hard to leave a home or a community that you know so dearly and love. At the end of last year I farewelled one such community. As always with such farewells they are often accompanied by gifts that are not sought but accepted as part of the leave taking response.
I have long admired the work of artist Timothy Scmaltz, often receiving emails all the way from Canada highlighting his latest works. Timothy has a real gift in depicting religious themes and stories. Some of you may be aware of his Jesus series which sits outside of religious institutions around the world.
Angels Unawares was installed in St. Peter's Square and unveiled by Pope Francis on Sept. 29, 2019, the 105th observance of the World Day of Migrants and Refugees. The inspiration of the work arises from a passage from Hebrew 13:2. The work depicts migrants and refugees from all cultural and racial backgrounds and from all historic periods of time together—shoulder to shoulder on a raft or boat. A Protestant man escaping the Counter-Reformation joins a Jewish man fleeing Nazi Germany. An African family forced into slavery joins a displaced Native American.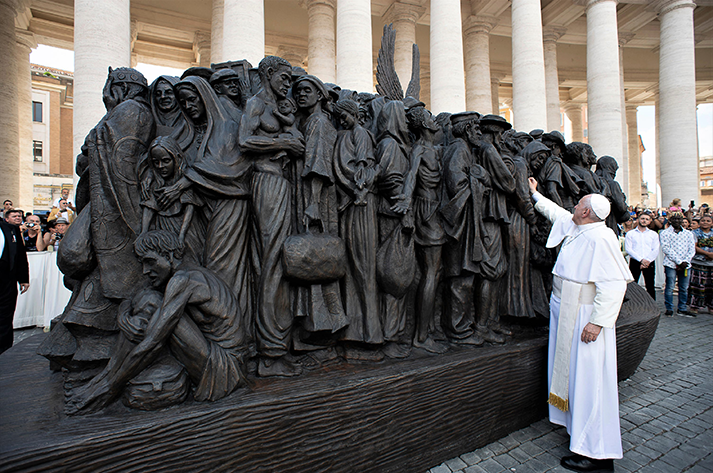 A mentality of scarcity and scapegoating has been at the heart of fears about "illegal immigration," in modern times which Angels Unawares seeks to overturn. Schmalz wants contemporary viewers to be able to see themselves among the diverse group, and in seeing themselves recognize the role they can play in the artwork's message, taken from Hebrews 13:2: "Be welcoming to strangers, many have entertained angels unawares." With more than 50% of the Australian population speaking English as a second language the "them" is truly "us".
Angel wings rise from the centre of the vessel, a nod not only to the divine stranger in scripture but also the sacred in each of us – our shared humanity. Our own schools are very much the same as this sculpture depicts, diverse people travelling on a boat together. May we remember to be welcoming to strangers.
Post Script: My college council gifted me a desktop replica of this sculpture. Next time you visit LEQ I invite you to spend a little time with the sculpture to see how God may speak through this work.
God Bless you and your communities as you serve the Lord through your work in Lutheran Education.
Tanya