Accountability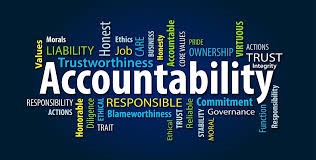 I have quite a library of books in my office and at home from which I select and read periodically. Some more so than others. I really enjoy getting my head into Susan Scott's books – Fierce Conversations and Fierce Leadership. 
Years ago, I attended one of her PD days and was so impressed by her logic, her suggestions and ideas for possible solutions, that I bought both of her books.
In her book Fierce Leadership, she talks about accountability and writes "Accountability is a big deal, one of the rarest, most precious commodities to be found." 
I recall this quote which I'm sure you would have heard before, but I would still like to share it with you.  
This is a story about four people named Everybody, Somebody, Anybody, and Nobody.
There was an important job to be done and Everybody was asked to do it. Everybody was sure Somebody would do it. Anybody could have done it, but Nobody did it. Somebody got angry about that because it was Everybody's job. Everybody thought Anybody could do it, but Nobody realized that Everybody wouldn't do it. It ended up that Everybody blamed Somebody when Nobody did what Anybody could have done.
Susan Scott states that before people jump in when things go wrong causing a knee-jerk reaction, they should ask the question "who is responsible?" and avoid getting the "not me" response. They should ask lots of questions, such as: what were, the obstacles, bumps, emergency that happened and so on before they pass judgement.
At this very busy time of the year, it is easy to make rash decisions and judgements. Remember time and perspective is a wonderful thing. 
       "Therefore, confess your sins to each other and pray for each other so that you may be healed. The prayer of a righteous person is powerful and effective."
  James 5:16
Blessings.
Eunice
DSLS