Respect for Others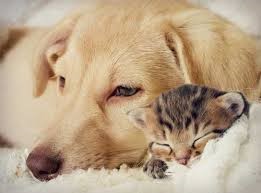 I was sitting outside in my back garden on the weekend, and I happened to catch a glimpse of one of my dogs – Penny, a Labradoodle.  She was laying down right in front of the entrance to one of my cat's sleeping house area.  I heard my dad say, "Penny you are in the way move Toby can't get into his house, you are bullying him."  I suppose I have seen this often with Penny, I have also observed and scalded her for hovering over Toby whilst he is eating. There is no aggression as such but very much a behaviour she engages in for her own benefit – any left-over food! Something I might add that she would never dare do to my other cat Charlie who is much younger and who is in charge of things at our place, not Penny. The very subtle way in which Penny hovers over Toby, blocks his way, even follows him around, are all characteristic of the classic bully.
This reminded me of the LPAQ meeting a couple of weeks ago when Annie Smeaton gave her presentation.  As Leaders of our schools, it is important that we are conscious of the behaviours of our students towards students, adults towards students and students towards adults and of course adults towards adults.  As per the Lutheran Valuing Safe Communities and Restorative Practices professional learning and training, it is important for these observed behaviours to be called out and reported.
The difference is that dogs and cats are animals, and we need to train them to engage in appropriate behaviour as we see fit.  With humans unfortunately these sorts of behaviours are often habitual they are difficult to change, certainly in the short time.
One of my favourite bible passages is Luke 6:31
"Treat others as you would have them do to you."
I pray that your school community remains a safe place for all who work, attend and visit each day.  May the professional learning and training in VSC and RP be of great value and practice within your community.
In the meantime, I will continue to work with my dog Penny and hopefully change her behaviours, no matter how subtle they may be, may I observe them and call her out on them, even though it will no longer be with Toby, sadly passing 01/06/2021.
To you all, have a blessed weekend.
Eunice
DSLS