Time for a break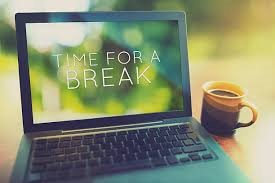 As we enter Term 2, I trust that everyone had a well-deserved break over the Easter weekend and longer if at all possible.  This morning after returning from our recent lockdown many stories of holiday adventures were shared amongst staff at the office. 
For me having recently relocated from the Northern Territory and still unpacking boxes which adorn my garage rather than house my car, I was welcome of the break over Easter.  No real adventures just unpacking boxes and experiencing a number of surprises!
Jesus said,
"Come to me, all of you who are weary and carry heavy burdens,
and I will give you rest. Take my yoke upon you. Let me teach you,
because I am humble and gentle at heart,
and you will give rest for your souls. For my yoke is easy to bear,
and the burden I give you is light. 
Matthew 11:28-30
When we do take a break from work, we very often get tied up with jobs that need to be done around the home and garden and forget that we need to take a rest from time to time.  Unfortunately, I am guilty of that, people say that we can become slaves to our gardens, again I am guilty of that.  I love my garden and now I'm in a new home (old that needs lots of work), I find myself spending any spare time outside.  But I also claim that this is my solace, a place where I can work physically but have a peaceful mindset. Rest allows our mind, body, and soul to renew.
Rest is important to our spiritual walk with the Lord, and many Christians today don't appreciate the value of rest.  Make sure to have a rest at every opportunity, even if it is working in the garden, walking the dog or playing with the children or grandchildren, it is different to the everyday work that we do.
Have a great Term 2.
Eunice Stoll
Director School Leadership Support