Being With…
Identity & Formation LEQ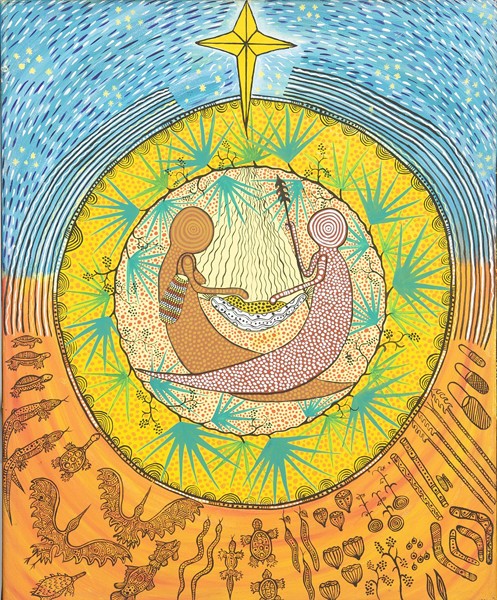 Matthew 1:22-23  (CEV)
So the Lord's promise came true, just as the prophet had said, "A virgin will have a baby boy, and he will be called Immanuel," which means "God is with us."
John 14: 16  (CEV)
Then I will ask the Father to send you the Holy Spirit who will help you and always be with you.
This is an important week. All our kids are back!
It's also been National Sorry Day and we're in the middle of National Reconciliation Week.
I have been pondering a particular aspect of what it means to be human. And I wonder if this idea might resonate with you also, as you think about the ways in which we practice being Lutheran communities.
In wrestling with NY Governor Cuomo's question, what is the worth of a human life? John Hare, Yale Professor of Philosophical Theology recently emphasised being with… He said,  … Jesus came to be with us… Emmanuel… and that is what we have lost… we can't take Eucharist… a good life is one in which we have physical continuity with others…
I was struck by this notion of 'withness'. It's kind of an obvious idea but not one I've thought of with quite this simple vocabulary. But what does it mean for us to be 'with' one another at this time?
It was beautiful to read the following from an ABC article talking about an ongoing survey of people's mental health at this time,
People did not seem to be more concerned about their own health, but fears jumped that a family member or friend would contract the virus…
University of Queensland Psychology Professor Alex Haslam said the results showed people recognised the efforts to fight the virus were about maintaining the collective health of the nation.
"That's one of the really positive things around the psychology of COVID-19, that it has brought out that sense of solidarity, that sense of connection to and responsibility for other people," he said
"The psychology of COVID-19 is the psychology of 'us'.
"The really successful leadership has been the leadership that has brought people together.
How beautiful that we as Australians have expressed solidarity with people who are especially vulnerable to Covid 19. I wonder if this experience is also an invitation to live more fully into this way of being. How might we live in solidarity with those both within our borders and those without? How might I?
One of my favourite authors, Henri Nouwen writes about what it means to care, pointing out the historical connection between the word 'care' and the notion of 'suffering with'. Henri says, to care first of all means to be present to each other…. And I would add… to care is to truly be with.
We spend a great deal of time these days talking about empathy and our deep desire for our young people to grow this skill among other truly human ways of being. I would like to finish by arguing that Jesus' model of coming alongside… being with… extending empathy… is what we are seeking to embody as we practice Restorative approaches to relating with one another in our schools, it is at the heart of what we are seeking to do through Service Learning.. and it is in Christian Studies that we can find key opportunities to explore this life to which we have been invited.
How are you experiencing the love and challenge of 'being with' at this time? During this National Reconciliation Week, how can we be #In this Together? How can we be with our First Nations brothers and sisters?
It is indeed a privilege to be involved in this best of all work, seeking to nurture young people who are living fully into this life of truly being with one another.
In thanks for our 'withness' as we serve our communities together,
Steph
Stephanie Maher
Director- Identity & Formation
Australians are more worried than ever about the coronavirus pandemic, survey reveals
Sherman, Louise Ed. et al. God's Mob, Our Story
Nouwen, Henri Out of Solitude.
For the Life of the World: Yale Centre for Faith & Culture. What is a Human Life Worth? Episode 9 May 17 2020