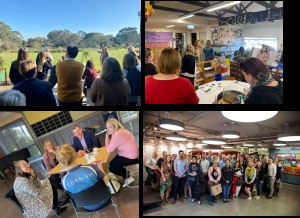 Last week we visited five schools located in Melbourne and had our largest group ever join us. Below are some of the inspirational quotes by the educators on their experience and take-home insight on what they observed:
First Stop -Templestowe College
"When you remove the disengagement and need for behavior management, teachers can teach."
"Never be afraid to challenge the status quo."
"Authentic learning – students doing real things that matter to them to improve themselves."
"When you trust students with things, they are passionate about, great things happen. "
"We treat our students like they're just humans "
" We do not lock doors at lunch to keep kids out. Only prisons lock doors."
"Change or die"
"It's not so much about the subject but about the skills (teamwork, communication, responsibility….)"
Second Stop – Luther College – Framing the Reflective Journal for the rest of the Tour! – (An amazing recent addition to the Tour)
"The absolute Best Professional Learning I have ever done in my teaching Career!"
"Exceeded expectations – cannot thank you enough, for your support! I feel like the old version of me again ready to take on the world and improve the lives of our learners!"
"Thanks for an amazing learning tour. So much to think about! Really appreciate all the energy and effort that went into giving us this very special unbeaten experience. "
"What an amazing contemporary learning tour you took us on this week – a huge thank you for your preparation, organisation and leadership.
I hope you have had a chance to recover. I was feeling pretty overwhelmed at all the amazingness that we saw, and the task ahead, but am now feeling excited and ready to challenge the system
3rd Stop – Princes Hill Primary State School (An amazing recent addition to the Tour)
"I was brought to tears in seeing highly engaged young students across the whole school"
"The level of authentic inquiry was out of this world!"
"Great learning and probably the best I have seen in run down old buildings 100s of years old. You do not need flash buildings for a contemporary change – AUTHENTIC 21C PEDAGOGY"
"As a secondary teacher I now understand what good learning looks like – we need to learn from this"
"Why do we destroy these learners when they come to secondary school. We need to continue the deep inquiry, rich authentic projects to be great learners and contributors"
"Students articulate their learning with true heart and conviction"
"Esme (Principal) is so supportive and driven to back her staff with great research"
"It's all about great pedagogy, great passionate teachers, great change culture serving the whole community and a Principal who is informed and driven about contemporary learning"
"The rich inquiry units were my big winner"
"Loved the way the school displayed the work and setup a welcoming gallery of student work"
"Such beautiful indigenous cultural units enabling authentic connections and projects"
4th Stop – Cornish College (Another amazing recent addition to the Tour)
"I now understand that a common thread between all the schools we have seen is authentic student agency and Cornish College enables this across the school especially in senior years with their Design Futures program"
"I like how atar is not the focus – it is about developing people to tackle the world and their wellbeing right now"
"Nicola leads and speaks from the heart and emphasizes that there is much more reason to change schooling then there is not"
"Community and Indigenous Connections are important at this school with a strong focus on why their site brings a uniqueness to their school and community"
"Carving out some time from the senior VCE has allowed senior students to follow their passion and work on projects that are authentic and serve the community while developing many needed skills"
"Student agency and engaging in worthwhile passions is so refreshing"
"I love how the Principal questions everything about schooling and is not afraid to provide alternative pathways for the staff who are resistant to worthwhile change"
"What a heart-warming experience being able to sit with individual senior students to listen to their stories of change they have made for themselves and their community with their design futures passion projects"
"The question is not: can our kids handle the freedom, The questions are: do we have the courage to give it to them?" -"This is an URGENT question"
5th Stop Newmark Primary (formerly Lumineer)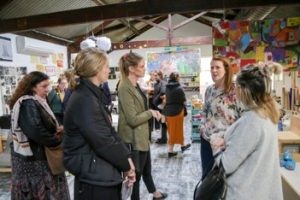 "Ooh oooh my dream school – the learning was beautiful and so REAL – students were making real differences in community and life through this authenticity"
"I love how they questioned everything about traditional schooling to get to where they are and they continue to do so"
"I understand why Kim talked this school up during the tour – it's exceeded her talk and our expectations"
"Student AGENCY X20 with rich inquiry, design, PBL and first principles thinking – Thank you so much for bringing this to us – Amanda the Principal is amazing!"
"What a powerful part of the tour and blew our minds as the tour came to an end!"
"Proof that kids can make a huge difference when applying their learning in rich and meaningful ways"
"Would love to spend two days there and hangout even more with the learners"
"It is marvelous what can be achieved when a couple of people years ago were dissatisfied with old style schooling so they simply made a school! The learners are now in great hands!"